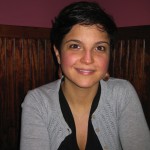 Emily Bonneville Ogden currently works as a psychologist for Manhattan Family Court, sees patients privately at her office on the Upper West Side, and is an adjunct professor at Adelphi University. Dr. Ogden obtained her doctorate from Adelphi University, Derner Institute for Advanced Psychological Studies, and completed her clinical internship at Bronx Psychiatric Center. Dr. Ogden's dissertation, "Alienation and Impingement: An Inquiry into Masochism" utilized intersubjective, feminist, and classical psychoanalytic theory to explore power dynamics and its effect on the unconscious. She has an  interest in marginalized populations, particularly ethnic and cultural minorities and persons diagnosed with psychiatric disorders. Her current work gives her the opportunity to continue her exploration of the intersection of the social/political, relational and intersubjective realms. Prior to attending graduate school, Dr. Ogden pursued her interest in culture and language, traveling and teaching throughout Central and South America.
Presentations/Publications
Panel: "Troubling Trauma, Troubling Treatment." Association for the Psychoanalysis of Culture and Society (APCS) annual meeting at Rutgers University (October 2012).
"Thinking and Being in the Hospital: The Psychodynamic Inpatient Group." International Society for the Psychological Treatments of The Schizophrenias and other Psychoses (ISPS-US) annual meeting in Chicago (October 2012).
"Mindfulness in the Treatment Room." Grand Rounds at South Nassau Communties Hospital (June 2012).
An "Essential System of Care" for Justice-Involved Persons with Behavioral Health Disorders: Diversion, Continuity of Care and Re-Entry (2011) Sponsored by Bellevue Hospital Center/NYU School of Medicine and the SAMHSA National GAINS Center, New York, NY.
Mourning Through Dreaming: Study of a Widower's Dreams. (2009). APA Division 39 Conference, Division of Psychoanalysis, San Antonio, TX.
Case presentation on dissociation and trauma for Drs. Phillip Bromberg and Wilma Bucci at Adelphi University (2009).
Ogden, Emily B. (2004) "For You, Time".  Psychoanalytic Perspectives, 2, 88-89.